The Vetivers News Archive
2002 2003
---
December 27, 2002
VETIVERS LOSE ANOTHER BASS PLAYER AS CLYDE QUITS
The Vetivers are once again a two-man group. Bassist Clyde Kim has resigned after the "farewell concert" at Adrian's Cafe, leaving Paul and Ben alone like that fateful day the Vetivers began. Clyde will be persuing a career as an extra in movies... No, wait. He wants to direct. Sorry about that, Clyde. And remember, no matter how many Clydes there are in The Vetivers in the future, there will be only one "Sweet Balls."
---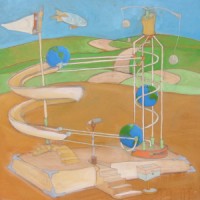 December 26, 2002
VETIVERS RELEASE SECOND CD
The day before Paul escapes from Kansas, The Vetivers have finally released their long-awaited sequal to their Lights album. Twelve O'Clock in all the World is a CD about travelling, featuring 14 new songs by Paul Solecki and the songwriting debut of Clyde Kim. Drummer Ben Champion also makes a debut with his first ever stint at lead vocals on the song "Two Moons." The album was recorded over a six month period in which Paul neglected his studies in order to make everything sound perfect.
A copy of this wonderful album can be yours for $12.99 from mp3.com, but friends of the band (and enemies too!) can obtain their copy of the "special edition" while supplies last for only $10. The "special edition" of Twelve O'Clock features additional artwork and two more songs than the regular version, and you get to order it directly from Vetiver Paul Solecki! He's looking forward to hearing from you.
---
December 17, 2002
BEN CHAMPION THANKS HIS ADORING FANS
Click here for the official Kansas State news release about Vetivers bassist Ben Champion winning a Rhodes Scholarship! Here is an article from the Olathe Daily News (as prestigious a newspaper as the Rhodes is a scholarship!) and here is one from the K-State student newspaper.
Here is a spellchecked exerpt from the Vetivers Message Board:
I must say that the congratulatory messages have been appreciated, but congratulatory massages would be much better! My endeavors studying at Oxford, as most of you must have guessed by now, are merely a pretense for spreading the sounds of The Vetivers throughout the world. You all really should have seen it coming, what with all the euro-based lyrics and the title of the new cd.
Of course the question must always be brought up: don't the Rhodes Trustees have any standards? They most certainly do, but the true explanation for my success in the competition comes from a long-time friend of The Vetivers called Jenny Polka. She catapulted the group from oblivion into regional fame with our performances for cheering thousands at the famed AMC Studio 30 and into the national spotlight when we played to many more thousands at the renowned Hot Air Balloon Festival at Richards-Gebaur Air Force Base.
Until recently this had seemed like a wonderful gift, but the conclusion to Jenny's influence on The Vetivers. Little did we know that Jenny was to have a much more profound effect on the nation's favorite band; you see, Jenny Polka is the Colossus of Rhodes! Paul, your comments on a previous message could not have been more appropriate. Being that my award coincides with the transfer of Hideki Irabu to Japan, the Colossus plans to expropriate the world from your shoulders and transfer it to him.
I appreciate all the support and light-hearted comradery that you all have shared with me in the last five and a half years. May it only continue well into the coming years, and may The Vetivers live on in our future host countries around the world.
Your all-star drummer,
Ben
---
December 7, 2002
HIDEKI IRABU GOING BACK TO JAPAN
Hideki Irabu, the pitcher immortalized in the Vetivers classic "Jacques Cousteau," has signed a contract with the Hanshin Tigers in Japan, thus ending his American Major League career. Paul was going to try and meet Irabu when the Texas Rangers played at Kauffman Staduim this summer, but the "fat pussy toad" (quote by Yankees owner George Steinbrenner) awoke in the middle of the night with chest pains and was hospitalized, so Paul never got to meet him and give him a copy of his song.
---
December 7, 2002
FORMER VETIVER JIMMY MARCH IS "IN THE STUDIO"
The former Vetivers guitarist and composer of four songs on the Lights album Jimmy March is working on a solo CD of original material. Paul Solecki is producing the album and providing some instrumentation. Some say that Jimmy is just looking for a creative outlet and just wanting to let his friends and family hear the songs he has written since leaving the Vetivers, but if you really think about it there is something funny going on.
Doesn't it strike you as odd that Jimmy decided to do a CD right after he heard that his former band was doing one as well? And that they will be coming out around the same time? Yes, it is obvious that this is a severe case of jealousy and Jimmy is only trying to be as cool as the guys in the band he once was part of. We always joke about Jimmy being an "old man," and this outlandish behavior certainly seems to be a case of trying to recapture his lost youth. Sort of a midlife crisis, if you will. So beware, Vetivers fans. Beware of boys who cry wolf, keep wide of birds of a feather that don't flock together, and avoid at all costs "Jimmys in musician's clothing."
---
November 5, 2002
VETIVERS FALL SHORT OF VICTORY IN ELECTION
All three members of the Vetivers lost in the national election today. Despite Paul Solecki's write in votes, Ben Champion is not a member of the US Congress, Paul is not a State Representative, and Clyde is not the State Treasurer. In addition, former Vetivers opening act Steve McClernon also failed to take office as a member of the county commission and fan of the year Bess Price is not on the state Board of Education. While write-in candidates do not usually win, the losses of all of these fine people just seems suspicious to me.
---
October 18, 2002
BEN AND PAUL MEET THE RED ELVISES
Tonight at the Grand Emporium in Kansas City, Paul and Ben took a break from finishing the upcoming Vetivers CD and saw a concert by and met all three of the Red Elvises. Their motto is "your favorite band," and since they already took that motto the Vetivers had to settle for "not nearly as good as the Red Elvises." Zhenya, Igor, and Oleg performed for over two hours and then got the chance to meet Paul and Ben. There are no plans yet for a supergroup featuring members of the Red Elvises and the Vetivers, but there is always the imagination.
---
September 12, 2002
VETIVERS COMMISSION AN ARTIST
The Vetivers have pooled all their money ($0) and, in the tradition of the Renaissance's richest men, have commissioned a great master of the arts for the cover of their upcoming CD. Kiel Johnson, who actually likes the band, hasn't rested in the past two days since he learned he got the job. Already, he has come up with 43 different ideas and completed 36 of them.
"I'm too excited to sleep or eat," murmured Kiel, a pencil in his mouth as he stroked another on an outstretched canvas. "This is, and will always be, the most important thing I've ever done. This is what people will remember me by. I've got to get it perfect." Kiel's roommate has already moved out, and his dog Kali is mad at him because there's no place to sleep anymore in his famous warehouse. Every square inch is covered with ideas for the Vetivers. "I hope they like at least one of these!" Since Kiel is the artist, the band is guaranteed to.
---
August 11, 2002
VETIVERS BEGIN SECOND CD THIS WEEKEND
This Sunday the recording industry reached a new low as The Vetivers begin recording their second album. The band plans to record the entire album themselves using various recording equipment in the Vetivers vault and some borrowed from friends, including former opening act Steve McClernon. Though they have never before recorded a CD entirely on their own, the early analysis is that things are going much better than expected.
---
02

CLYDE AND PAUL TRY HAGGIS

Haggis. No other word can bring out such emotion, such visions in the mind. Before tonight, Paul and Clyde never knew what it was like to eat out of a sheep's stomach, but now their lives will never be the same. Tonight they tried some haggis. I'd like to say more about this sacred event, but words in cases like this always fall short, and therefore this article must end.
---
The Vetivers News Archive
2002 2003
---
info | bios | cd | events | home