The Vetivers News Archive

2000 2001 2002 2003
---
December 21, 2001
JIMMY MARCH TO REUNITE WITH VETIVERS FOR CHRISTMAS
It's official! Jimmy March fans will have their Christmas wish come true this year at the Vetivers Christmas Extravaganza! Jimmy is expected to perform four Jimmy classics with the band tomorrow night at Adrian's Cafe. The band hopes this will finally put an end to the rumors that Jimmy died in April. This will be Jimmy's first appearance with the band since they lost the Battle of the Bands and got in a huge fight. Will there be violence at this reunion? Find out tomorrow night!
---
December 10, 2001
VETIVERS WILL ACTUALLY BE READY FOR CONCERT
For the first time in history, The Vetivers are ready to go. With four practices under their belts since their last concert, and an estimated 1-2 practices more to go, the Vetivers Christmas Extravaganza on December 22 will be the most well-rehearsed Vetivers concert ever. If there is any concert that you shouldn't expect to see 2/3 of the band accidentally forget to repeat the chorus at the end of Brooklyn or three different, simultaneous introductions to the same song, this is it. Also not to be expected is the sight of singer Paul Solecki hastily writing the words to four songs during the opening act. Furthermore, Paul won't have to show bassist Clyde Kim how to hold the bass. And drummer Ben Champion certainly won't sit on the snare and hit his drum stool with the sticks at this concert.
---
November 21, 2001
BEN FINALLY GETS BEHIND THE WHEEL
Several months after he left The Vetivers, Jimmy March's dream has come true. Yes, Ben Champion has his own car. The Vetivers drummer is the proud owner of a 1989 Honda CRX with fancy red trim and no back seat. Ben Champion lives two hours away from the other band members in the small town of Manhattan, KS, and due to this distance the band has been limited to two or three practices a year. Now that Ben has his own car, our experts have predicted that The Vetivers will increase their annual practice totals from "two to three" to "three, maybe four!"
---
November 16, 2001
CLYDE MOVES INTO A BACHELOR PAD WITH HIS SISTER
All this week, Vetivers bassist Clyde "Sweet Balls" Kim has been moving his stuff, and when he's done moving he will have his own bachelor pad apartment near the corner of 119th and Quivira. His sister will also live there.
Now Clyde can finally invite all the girls he meets back to his place to get it on with him. He'll put on his maroon smoking jacket, some jazz records from the early 70's, offer them a martini or a fine cigar, and hope his sister doesn't come out of her room to get a drink of water and notice him sprawled out on the zebra-stripe love seat with one eyebrow raised. Man, would that be embarrassing!
---
October 18, 2001

THE CHURROS ARE BACK IN ACTION
The Churros, on hiatus since 1998, have begun practicing again and hope to put on a concert soon in Lawrence. Kid Niko bassist Bryce Holt and Vetivers guitarist/keyboardist Paul Solecki formed the band during the summer of 1998 and made their only public appearance at Jimmy March's house at a late night concert before an audience of less than 10 people. Bryce is the chief songwriter for the duo, and his recent works on bass and piano have been described by Paul as masterpieces. The pair have had three practices in the past few weeks and are looking forward to many more and an eventual concert.
---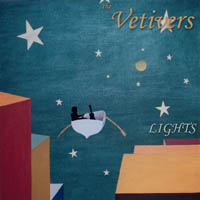 October 17, 2001

VETIVERS REPORT THIRD QUARTER LOSS
In these tough financial times, everybody suffers. The Vetivers were the latest organization to report third quarter losses, even after the layoff of one guitarist earlier this year. Sales of the Vetivers CD, Lights, have dropped from 2 units last quarter to only 1 unit this quarter. Vetivers Headquarters has extrapolated this data and have come up with a projected figure for next quarter, which the band is not releasing.
"The last year has been tough," said drummer Ben Champion. "The world is changing, and for every success there are thousands of failures, especially in this business. We hope to change that with our announcement today." The announcement Ben is referring to is the drop in price of the Lights CD from $10 to $7. The music industry is looking forward to the next quarterly report to see if this gamble paid off.
---
October 9, 2001

PAUL AND CLYDE NOT MISKAKEN FOR THE PROCLAIMERS
Tonight, no one asked Vetivers bandmates Paul Solecki and Clyde Kim how things are going in Scotland. In fact, the entire time the two were at the Proclaimers concert in Kansas City, no one mistook them for the famous twin brothers that sing in the band, best known for the song "500 Miles." When the real Proclaimers came out on stage, nobody did a double-take, even though Paul and Clyde were a mere five feet in front of them.
"What a relief," said Paul on the drive home. "Finally, some peace and quiet." Clyde shook his head in agreement and the two drove forward into the starlit sky, silently sharing the knowledge of the grave danger from which they had escaped just moments before.
---
September 17, 2001

JIM KELLY REPORTS FROM NEW YORK
I'm searching for some entertaining angle at all of this, but it's not easy. The last couple of days were like nothing I have ever known before. Although I wasn't "directly" involved in all of that mess, simply being in New York made me a victim (but perhaps this is the same for anyone in this country? In the world??).
We stepped outside of our meeting on Tuesday morning (in the middle of a debate about our vacation policy) and watched smoke rise from the top of the horizon, then only from the bottom. The rest of the day was spent consoling friends who had lost other friends and trying to donate blood at the Red Cross.
We tried to get things back to normal the next couple days, but lost to warnings of asbestos in the air and the constant presence of fighter jets screaming above us. I walked down Broadway, just north of Times Square, at 4pm without a car or bus in sight. People were looking at each other in the eye with concern, waiters would talk with you a little longer, it wouldn't seem strange to see a group of strangers crying together around a wall covered with photocopied pictures of "missing" people.
For the first time in my life, patriotism hasn't been some collection of cheesy rituals. We saw ad hoc marching bands charging up 6th Ave. playing "Yankee Doodle Dandy" in the same fashion that must have happened in that same place 200 years ago. American flags dominated the normally authentic-looking Chinatown and immigrant-owned stores made a point of putting large U.S. flags up to remove any doubt that they too were victims of the tragedy.
The only entertaining thing that comes to mind from Tuesday was when we were outside of the Fox News building, which was sending the updated headlines across their message board. Several sentences announced that the World Trade Center had been hit by hijacked airplanes, announced that the Pentagon had also been hit, gave a quote of retaliation from President Bush, then gave a summary of the weather forecast from the newly released Farmer's Almanac. Everyone was a bit confused, needless to say, at the news of a colder than average winter ahead of us; but we all hoped that it was wrong.
Jim
---
September 7, 2001

KIEL JOHNSON NOW ON DISPLAY
The great Kiel Johnson, artist and longtime friend of The Vetivers, has twenty drawings on display at the Sherry Leedy Gallery in Kansas City! The exhibit, entitled "New Drawings," will be at the gallery now through October 27. Vetivers guitarist Paul Solecki was on hand at the premiere, and he liked what he saw.
"The art spoke to me," proclaimed Paul, "or at least I thought it was speaking to me, then I realized it was someone behind the drawing. Nevertheless, it was great seeing Kiel and his art again." Kiel's history with The Vetivers is a deep one, as the band used his bedroom for recording the background vocals, keyboards, and secondary guitar and bass parts during the 1999 Lights sessions. He didn't even mind when he came home!
---
September 2, 2001

VETIVERS FINALLY HAVE A CAMPOUT
After years of talking about it, The Vetivers finally went camping. The boys celebrated the success of their concert with Meep with a trip to Clinton Lake in Lawrence. Vetivers groupie Amy "Woo" Wood was also in attendance.
The trip was going fine until bassist Clyde Kim was carried off by a band of spiders. Paul, Ben, and Amy searched for hours and finally found Clyde's lifeless, half-eaten body in a web hanging from a large tree. Luckily, Clyde's brain was still intact and they had just cloned him before the trip, and Paul and Ben were able to place Clyde's old brain in his new body. He's as good as new and ready for their next concert!
---
August 25, 2001

VETIVERS DEVELOP SCHEME TO IMPROVE
This afternoon the members of The Vetivers got together with a common goal: to get better. Even though there was no audience and they were in Paul's basement, the trio played their songs and gave each other suggestions on what they can do to make the sound more enjoyable.
"I think we'll do this more often," said drummer Ben Champion. "This new innovation could really make our concerts better. Paul, Clyde and I are going to call this new ritual 'practice,' since it's almost like we're practicing our songs." The Vetivers will officially begin recommending "practicing" to other bands if their concert next weekend goes well.
---
August 23, 2001

VETIVERS SIGN COLOGNE ENDORSEMENT DEAL
In the great tradition of Michael Jordon and David Eternity, the Guerlain company of Paris has developed a fragrance to honor The Vetivers. Described as "fruity yet strangely masculine," Vetiver, shown in the above advertisement, has been taking Europe by storm. None of the band members actually wears cologne, but rumor has it that if any female fan were to rub against Clyde for a few hours, she could smell it!
---
August 19, 2001

ANOTHER "BIG" STAR SHAMEFULLY SIGNS AN AUTOGRAPH
Bodybuilder Flex Wheeler is the newest (and least legible) addition to the Vetivers' autograph collection. Clyde met the strongman and got the signed picture, which will be on display along with the others at the next concert. The Vetivers are committed to expanding their collection and will continue to fool themselves into thinking these people are actual fans.
---
July 23, 2001

THE RICH AND FAMOUS LOVE THE VETIVERS
The cast and writers from the great TV show "Mr. Show with Bob and David" are among the celebrities to jump on the Vetivers bandwagon. Although they have never heard any songs and can't remember signing anything, the guys really think a lot of the band as is evident in the group of autographs above. Who will be next? Go to the Vetivers message board to nominate the next potential involuntary Vetivers fan!
---
July 22, 2001

VETIVERS FANS BEWARE!
There are two Clyde Kims out there. One is the Clyde we know and love, but the other is a mysterious impostor! Several people that have left messages on the Vetivers guestbook have recieved suspicious emails from the fake Clyde Kim with a file attached. This file contains a worm virus that erases your hard drive. Of course, no Vetivers fan is dumb enough to fall for this, and we hope that this will not stop people from signing the guestbook or leaving a message on the message board in the future. If you have already downloaded the file, go to norton.com for the antidote.
---
June 1, 2001

TWO FEET FROM SCREECH
Tonight, Vetivers Paul Solecki and Clyde Kim had the pleasure of being two feet away from Dustin Diamond, the actor who played Samuel "Screech" Powers for nine years on Saved By The Bell. Along with friends Bess Price and Bryan Ross, the bandmates enjoyed a long set of stand-up comedy from the front row. Diamond was surprisingly entertaining, and The Vetivers officially encourage all their fans to attend a Dustin Diamond show next time he is in your town.
---
May 18, 2001

CELEBRATING EIGHT YEARS OF CARNIVOROUS GRASS
After the Vetivers concert tonight, Jim Kelly and Paul Solecki marked the eigth anniversary of their very first performance together. Joined by Ben Champion on drums, Carnivorous Grass made their first public appearance in four and a half years. Several requests were made by the audience members, including Justin Bradford, The Arrow Song, Jim's Dad's A Racist, and a version of Love Is All Around. Longtime CG friend Gavin Budhram did the honor of introducing the group. Keyboard and trumpet player Ryan Ramon Griffin was scheduled to perform as well, but he never showed up!
---
May 18, 2001

FOUR YEARS OLD!
Today, Ben Champion and Paul Solecki celebrated four years as The Vetivers. Even though he's only been in the band for about a month, bassist Clyde Kim was equally happy at the big concert at Adrian's Cafe tonight. The Vetivers premiered three new songs: A Tale Of Three Cities, I Bet, and When The Vetivers Die. The audience was treated to a new feature of Vetivers concerts to come, the multimedia presentation. For the entire concert, two television sets played a long film edited by Clyde Kim with his assistant Paul. Notables in the audience included former Vetivers Jimmy March and Jim Kelly, along with Kyle and Bryce Holt of Kid Niko fame.
---
May 4, 2001

PAUL AND CLYDE PROVIDE MORE ENTERTAINMENT THAN BASEBALL
Tonight at Kauffman Staduim, the crowd of 16,000 Royals fans were treated to a beautiful sight on the Jumbotron. Paul danced while wearing his trusty Kermit the Frog head, while Clyde revived his famous "Chinese Man" character and bowed and made stereotypical Asian faces and gestures. The boys got such a big response from the crowd that they got an encore appearance on the screen, and Paul wore his big red sombrero the second time around. The duo encountered some trouble exiting the ballpark, as they were mobbed by several small groups of Kermit fans. Strangely, no one mentioned Chinese Man!
---
April 26, 2001

STEVE MCCLERNON TO OPEN ON THE BIG DAY
It's official! The hairy, perverse entity known as Steve McClernon will be the opening act for The Vetivers and Carnivorous Grass at the May 18 concert. This will be the second live performance of Steve's career, and he will play guitar and sing original songs. Steve is a friend of Paul and Clyde through work.
---
April 22, 2001

VETIVERS ANNOUNCE ANNIVERSARY CONCERT
The Vetivers, while in their fourth incarnation, will turn four years old on Friday, May 18. To celebrate, there will be a concert at Adrian's Cafe. Rumors of celebrities scheduled to appear are already surfacing in Variety and similar publications, but keep checking this web site for the only news officially approved by the band. There is no word as of yet as to whether former Vetivers Pat Danko, Jim Kelly, or Jimmy March will make special appearances.
---
April 21, 2001

VETIVERS SAVE THE EARTH
The Vetivers helped save the planet by performing at the Earth Day in the Park festival tonight in Manhattan, KS. Ben Champion actually planned and was in charge of the event with the Students for Environmental Action, of which he is the president.
Clyde Kim's premiere with the band was the first really good Vetivers concert in a long time. The band showcased four new songs: Brooklyn, Theo, Spooky Tricks, and Clyde's tune Cosmic Excelsior. Everything went right for the band, and even their mistakes sounded good. The boys got a big response from the small crowd and vows to do give a good performance the next time their planet needs them, which will probably be next Earth Day.
---
April 19, 2001

JIMMY QUITS BAND AFTER BEING KICKED OUT
The Vetivers are a smaller band now as Jimmy March, guitar and vocals, has officially quit the band in response to being kicked out yesterday afternoon. The music industry hasn't been rocked like this since Pete Best "quit" the Beatles! The expected lineup change will not impact their performance at the upcoming Earth Day concert this Saturday.
"I guess Jimmy just didn't want to be in a band that had already kicked him out," said Vetivers spokesperson Paul Solecki, guitar and keyboards. "Some people just can't handle that."
---
April 18, 2001

THE BATTLE IS LOST
The Vetivers had their worst concert ever today at the Johnson County Community College Battle of the Bands. Aside from fighting on stage, seriously messing up every song they played, not being able to hear each other's instruments, and having no one run sound, the concert went unexpectedly bad.
Clyde Kim managed to still make a succesful Vetivers debut despite the circumstances, as he played bass for the first time in public remarkably well for only playing bass two weeks. However, the lineup of the band is very unstable right now, and the band may be a three-piece when they play their eagerly anticipated Earth Day concert this Saturday.
---
April 12, 2001

CLYDE HAS LEARNED THE BASS!
It's official: Clyde can play the bass. Over the past week and a half, he has been practicing nonstop and has conquered the instrument. Now I'm not saying that he's as good as Pat Danko was. Why, even Jim looks like an expert next to Clyde. The important thing is that Clyde actually put effort into the band and is going to be an active participant. This is the first time that there has been a bass player that has lived within 45 minutes of the rest of the band. Now if we can only get that bullet train to Manhattan working...
---
April 2, 2001

CLYDE KIM: THE NEXT JIM KELLY?
When Vetivers bassist Jim Kelly announced that he will not perform with the band at their Saturday, April 21 Earth Day concert, the rest of the band did not know where to turn. After hours of debate and a few phone calls to British Prime Minister Tony Blair, the band has decided to give Clyde Kim the opportunity of a lifetime (and by lifetime, we mean two weeks).
Now there is one small detail left before the Vetivers are ready for Earth Day: Clyde has to learn what a bass is, learn how to play it, practice all day and all night, and conquer his case of stage fright, which has been described by doctors in India as the worst case they have ever seen!
---
March 15, 2001

JIM RETURNS TO THAILAND, LOCALS UNIMPRESSED
There were no banners, cheers, or fireworks today as Vetivers bassist James Patrick Kelly stepped off his plane in Thailand. And he stuck out like a sore, white thumb. Jim returns to America, "Land of Boredom," on the 24th.
---
March 14, 2001

DOCTORS SAY PAUL IS ON THE ROAD TO RECOVERY
The stitches are out and the world's top physicians have released their report from the Center for Vetivers Research in Brussels. The 238 page document indicates that everything should heal correctly and the future of The Vetivers is as bright as ever. Letters of sympathy and gifts should be sent to paul@vetivers.com .
---
March 5, 2001

PAUL TAKES TIME OFF THE GUITAR AFTER VIOLENT ATTACK
In an unfortunate incident at Adrian's Cafe, Vetivers frontman Paul Solecki has to take some time off the guitar for a while. Paul got six stitches in his left thumb after being attacked by an irate meat slicer at the popular Overland Park hangout.
"I hate The Vetivers and everything they stand for," sneered Slicey, the now infamous meat slicer. "I just wish I could have done more than cut his thumb. Next time, I'm going for his neck!" Paul wrote a song on the piano just a few hours after the attack, proving that nothing can stop this invincible musical force.
---
February 10, 2001

MINI CARNIVOROUS GRASS REUNION AS ONE OF KID NIKO GETS HITCHED
Following the wedding reception of Kyle Holt and his new wife Kim, Paul and Jim took over the piano of the Wichita Hyatt Regency Hotel for a brief Carnivorous Grass concert. They played songs such as "Justin Bradford," "Ms. Wheelchair USA," "The Pirates of Liechtenstein," and "The Great Egress" before an audience that consisted of such notable figures from the CG/Kid Niko era as Bess Price, Bryce Holt, and those long-haired rascals from the concert at Jim's Dad's house, Dylan and Kent!
---
February 9, 2001

CLYDE KIM WINS VETIVERS VALENTINE'S CONTEST
The Vetivers wish to congratulate our fan Clyde Kim for winning the Vetivers Valentine's Day contest. He wins a free Vetivers love song in honor of the special holiday. As soon as the song is available, it will be put on the web site for all to listen to. How did he do it?
"Well," sighed Vetivers spokesperson Paul Solecki, "he was the only one to enter." The band is reportedly upset that nobody else entered the contest. What the hell is wrong with you guys anyway? You always lie about coming to our concerts, and now this!! There are 60 people on our Virtual Vetivers mailing list, and only one person entered the contest!
"When Paul told me that no one else had entered," explained Clyde Kim, "I thought that I'd have a good chance so I sent him an email. USA Baby!" Click here to find out more about Clyde Kim.
---
January 20, 2001

PAUL AND BEN PLAY SPONTANEOUS MANHATTAN CONCERT
Putnam Hall, a dorm at Kansas State University, was the scene of a sudden and unexpected Vetivers concert featuring Paul and Ben from the band. The two decided to put on the show around 10 pm, then wrote a few songs and went out to eat and were on stage by midnight. At least, they would have been had there been a stage.
At the concert, the band played two new songs and introduced two new instruments to their already diverse collection. Ben played his new cajon, a drum that is sat upon while played, and Paul gave his first public ukulele performance to an audience that was estimated at somewhere between 8 and 10.
"It was fine," proclaimed Ben Champion shortly after the show. Both Paul and Ben hope to do some similar concerts in the near future with the rest of the band.
---
The Vetivers News Archive
---
info | bios | cd | events | home