Upcoming Reunion Concerts:
The next Vetivers reunion is a mini-gig on Monday, May 1, 2006...
Paul and Ben will play a very short set during Hank and Ray's break at Charlie's, Union Quay, Cork City. Free admission, Hank and Ray start at 9:30 as usual... See you there!
---
Past Reunion Concerts:
The Vetivers Amazing Best Concert Ever Reunion Gig!

Thursday, February 10, 2005 at Charlie's in Cork, Ireland. With support from Tony Kennelly, Paul Fenton, and Billy Kennedy!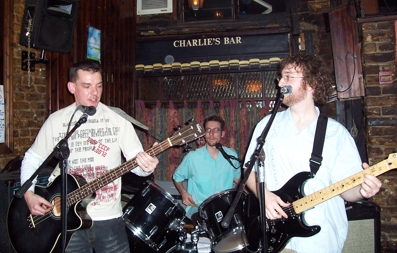 Past Concerts with Paul, Ben, and Clyde:
The Vetivers Farewell Concert and Boxing Day Spectacular!

Thursday, December 26, 8:00 pm, at Adrian's Cafe in Overland Park. Featuring Paul Solecki, Ben Champion, Clyde Kim, Jimmy March, Jim Kelly, and Patrick "Orlick" Danko! Come and hear the songs from the new CD and pick up your copy of the Special Edition of Twelve O'Clock in all the World! Steve McClernon opens!
Paul Solecki September 27 and December 6, 2002. Solo at Eden Alley.
---
Fifth Anniversary Concert May 18, 2002 at the Cup and Saucer in Kansas City, MO.
---
Friday, March 1: Paul Solecki solo at Eden Alley
---
Sunflower House in Lawrence: Saturday, February 23, 2002
Set list: Exotic / Brooklyn / Basque / Cosmic Excelsior / Outer Space / Sideways Heart Attack / Changing Trains / Million Mile Sky / Spooky Tricks / When The Vetivers Die
---
Vetivers Christmas Concert 2001: Saturday, December 22, 2001 at Adrian's Cafe. With special guest Jimmy March!
---
Saturday, September 1, 2001: Opened for Meep at The Pub in Kansas City
Set list: Sunrise / Brooklyn / Basque / Exotic / It's Blind / Caldecott and Newberry / Cosmic Excelsior / The Giant Midget / Spooky Tricks / When The Vetivers Die
---
Friday, May 18, 2001: The Vetivers Four Year Anniversary Concert with the Carnivorous Grass Eight Year Celebration and special guest Steve McClernon at Adrian's Cafe
---
Saturday, April 21, 2001: Earth Day in the Park in Manhattan KS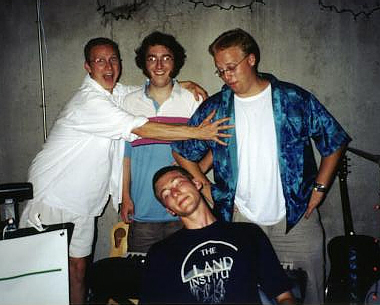 info | bios | cd | events | home