The New Vetivers CD: "Twelve O'Clock In All The World"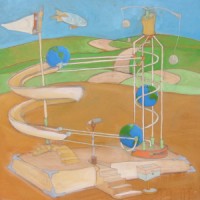 Officially released on December 26, 2002, the second Vetivers CD, "Twelve O'Clock in all the World," is available now! "Twelve O'Clock" is available for sale only from the band members, and if you are interested in one please email Paul. There were some mp3s up on another web site, but that site no longer exists, so you'll have to just trust us for now that it's a really good CD. But soon we'll have some stuff up here so you can listen to it and decide for yourself. In the meantime, click below for the lyrics!
---
The First Vetivers CD: "Lights"

On December 5, 1999, the face of music changed forever when The Vetivers released their debut CD, "Lights." Featuring 14 songs plus a top secret hidden extra track which nobody knows about, the CD includes songs by Paul Solecki, Jimmy March, and Pat Danko. If you are interested in purchasing a copy of the CD for $7, please email Paul. Click below for some sound clips from the CD and for the complete list of lyrics from "Lights."
| | | |
| --- | --- | --- |
| | | MP3 clips from the album: |
Song Lyrics:
Now online is the complete collection of song lyrics from the new CD "Lights". Just click a song title below to view the lyrics.
---
info | bios | cd | events | home